Juveniles in the Hartford judicial district who break the law are far more likely to be locked in a pre-trial detention center following arrests or referrals than juveniles from the state's other districts, an analysis of data from the judicial department shows.
More than a third, or 34 percent, of new delinquency cases in Hartford juvenile court ended up in secure detention, compared to 17 percent in Bridgeport and 20 percent in New Haven, according to fiscal year 2011 data released by the judicial branch. In Middletown, Waterford and Willimantic, fewer than 10 percent of juveniles arrested were sent to detention.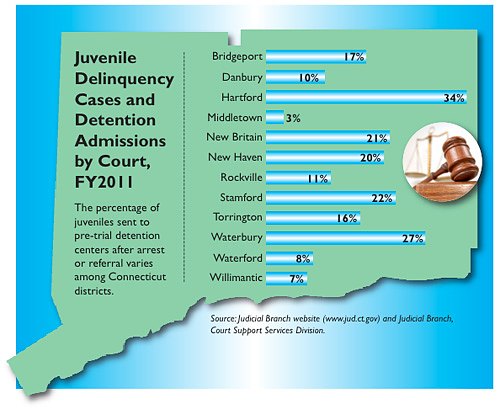 Although the data shows that the severity of treatment for juveniles varies by court location, there is no clear explanation for why the regional differences exist, according to advocates and court personnel. Studies have shown that sending juveniles to pre-trial detention increases the chances that they will re-offend and, eventually, end up in the adult criminal system.
"Just looking at the data, something here isn't right," said Abby Anderson, director of the Connecticut Juvenile Justice Alliance, which flagged the issue of geographic differences in a report that examined 2008 data showing the same pattern.  "We've asked the question, and we're waiting for an answer."
William Carbone, executive director of the Court Support Services Division of the judicial branch, said his office has not yet examined the issue in-depth and does not have a clear explanation of why Hartford's rate of detention is so much higher than other cities. He said that until last year, police could decide on their own whether to send a juvenile to detention following arrest, without a judge signing off on the decision.  Since Oct. 1, 2011, when a new law took effect, police have needed a court order to put a child in detention.
Now that the court support services division is collecting data on detentions, "it's impelled us to drill down and start looking at issues like this," said Cathy Foley Geib, manager of clinical and educational services for the division. "If there are broad differences between districts, that's important to look at."
Both Foley Geib and Anderson said there could be a number of reasons why the Harford district is sending a greater proportion of children to detention – such as a greater number of more serious crimes committed by juveniles. Pre-trial detention centers are intended to hold juveniles who commit serious offenses and who are likely to re-offend or are deemed a flight risk.
"You have to look at where there is discretion in the system," Anderson said, referring to different points in which officials – such as police, parole officers and prosecutors – interact with juveniles upon arrest. "Are the kids in Hartford getting arrested for things that kids in Bridgeport aren't? Or, do the judges in New Haven and Bridgeport just take a more conservative approach when it comes to putting kids in detention? We don't know."
Defense attorneys who handle juvenile cases say detention decisions allow for discretion, with some prosecutors and judges more likely than others to lock up a client. While detention is supposed to be reserved for serious offenders who would pose a risk in a less restrictive environment, other factors come into play, lawyers said.
"It's not just the severity of the crime," said John Maxwell, a Glastonbury attorney. "It can be everything from the kid's past record, to the situation at home, to a 'tough-love, teach-you-a-lesson' treatment." Maxwell recalled a client who was detained for a week last year after his arrest in Litchfield County for carrying a small amount of marijuana. The judge "wanted to give the kid a taste" of being incarcerated, he said.
Jill Ruane, a former assistant public defender in Bridgeport who now practices in Shelton, Waterbury and other parts of the state, said judges and prosecutors may account for some of the jurisdictional differences in detention rates. "There's a lot of discretion," she said, adding that New Haven tends to favor pursuing alternatives to detention, when possible.
Attorney Jerome Paun, who practices in eastern Connecticut, said he was not surprised that detention rates in Willimantic and Waterford are relatively low. Detention "is not used punitively, in my experience," said Paun, who spoke highly of the prosecutor in those districts. "It's really a last resort" for children who are multiple offenders, have unstable families or pose a risk, he said.
He also noted that in eastern Connecticut, "you don't tend to see a lot of serious juvenile crime. It's mostly low-level felonies and misdemeanors."
Carbone said that because the state's only detention centers are located in Hartford and Bridgeport—New Haven's detention center closed last fall—it may have been easier for police departments in those areas to send a child to detention than it was for officers in outlying areas.
"If you're a police department in Fairfield County, you needed to free up two officers to drive the kid to one of the detention centers that might be two hours away," Carbone said.
The intent of the law requiring a judge's sign-off for detention was to eliminate minority overrepresentation in the detention centers. A 2009 study found that black and Hispanic juveniles in Connecticut charged with serious offenses were more likely to be sent to detention than whites—47 percent for blacks and 49 percent for Hispanics, compared to just 27 percent of whites.
Carbone said he hoped 2012 data would indicate that the new law is helping to reduce disparities.
"We'll have to follow up and see where it goes. Now that a court order would be required under any circumstances, our hope is that there will be fewer kids coming from the inner cities," he said.
The 2011 data shows that 34 percent of new juvenile arrests in the Hartford district—600 of 1,775—ended up in detention from June 30, 2010 to July 1, 2011. New Haven had the highest number of arrests and referrals—2,059—but had 404 cases referred to detention, or 20 percent.  In Bridgeport, 17 percent of cases—248 of 1,462—ended up in detention.
Middletown had the lowest percentage of juveniles committed to detention: 25 of 760 arrests, or just 3 percent. Waterford had 75 of 932 cases, or 8 percent, referred to detention.
In addition to looking at pre-trial detentions, Foley Geib said, judicial officials are working with interagency teams in each district to refine data collection on court dispositions that might indicate broader disparities in how juvenile cases are handled. Data from 2011 shows that some court districts, such as Middletown, are more likely to commit juvenile offenders to the state Department of Children and Families than other districts, such as Stamford and Bridgeport.
Racial breakdowns show that blacks and Hispanics accounted for 70 percent of all admissions to detention centers in 2011. Data also shows that white juveniles had slightly higher rates of cases being dismissed than blacks and Hispanics. Three-quarters of those committed to DCF last year were black or Hispanic youths.
"If there's a reason why kids in one community have more severe consequences, or one community has more [alternative] services than another, we want to look at that," Foley Geib said.
State Rep. Gary Holder-Winfield, D-New Haven, a proponent of the law requiring a court order for pre-trial detention, said he believes race factors into detention rates.
"We've looked at racial profiling pretty carefully, and I can tell you that for any given crime, the outcome is different," Holder-Winfield said.  "A young, white male does something he shouldn't, and he just gets taken home. But a minority kid ends up in detention."
Holder-Winfield speculated that the New Haven judicial district might send fewer juveniles to detention than Hartford because it has a wider array of alternative programs for at-risk kids. Both he and Anderson said it is important that young people not be locked up unless it is absolutely necessary. "We're not opposed to kids being [in detention] who need to be there, but we want to reduce the chances that a kid is going to get locked up just because he's a minority," Holder-Winfield said.
Over the last decade, Connecticut, with an active state Juvenile Justice Advisory Committee, has made some significant advances toward reforming its juvenile justice system. Most dramatically, lawmakers passed legislation that raised the age for criminal prosecution in the adult system from 16 to 18 for any crimes except Class A and B felonies. Juveniles charged with those serious offenses are still transferred to adult court.
The risks associated with inappropriately sending kids to detention have been studied extensively in the last decade. A 2006 study by the Justice Policy Institute, a Washington, D.C.-based organization, found that spending time in a pre-trial detention center increases the chances that a young person will re-offend and, eventually, end up in the adult system. That study also found that detention is often misused in the U.S. For example, the study found that 70 percent of the youth in detention centers across the country were being held for non-violent offenses, and that minority youth were incarcerated at higher rates than whites, even when charged with similar offenses.
"The fact that you've been in detention serves as a marker for every other event. It's a predictor of future outcomes," Anderson said. "It's that simple: If you go to detention once, you're more likely to go back."